You can grow lemongrass (Cymbopogon citratus or Cymbopogon flexuosus) in a large pot, raised bed, or direct in your garden soil. Growing lemongrass is easy if you have a tropical climate. In cooler climates, you will likely have to overwinter your lemongrass plant indoors. Lemongrass is a fragrant large grass used in many Asian dishes, teas, and to repel mosquitos. Find out more about growing and propagating lemongrass here!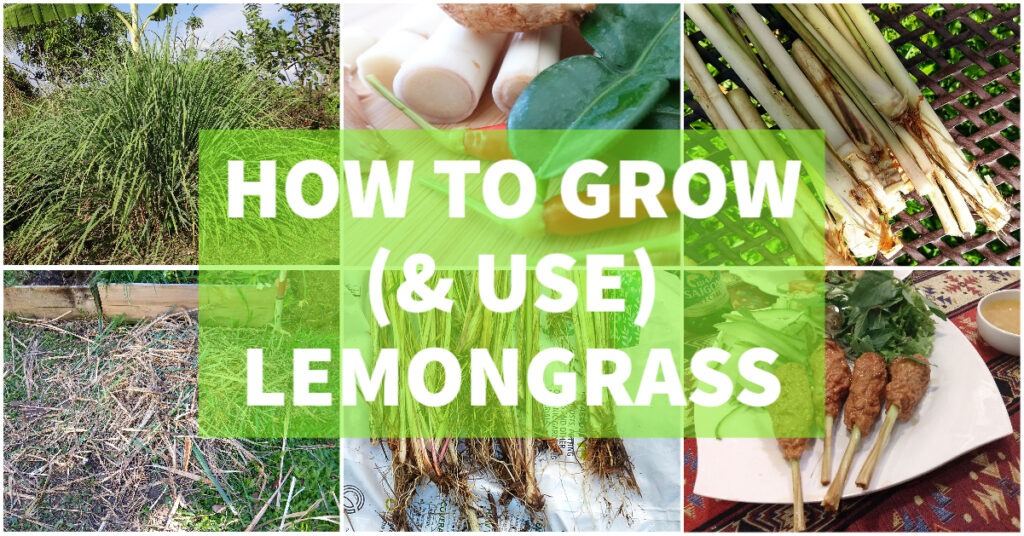 Grow Lemongrass
Lemongrass is a grass, a perennial herb in the tropics, an easy plant to grow, and is very useful in a range of ways. Discover more on how and why to grow lemongrass here.
How Big Will a Lemongrass Plant Grow?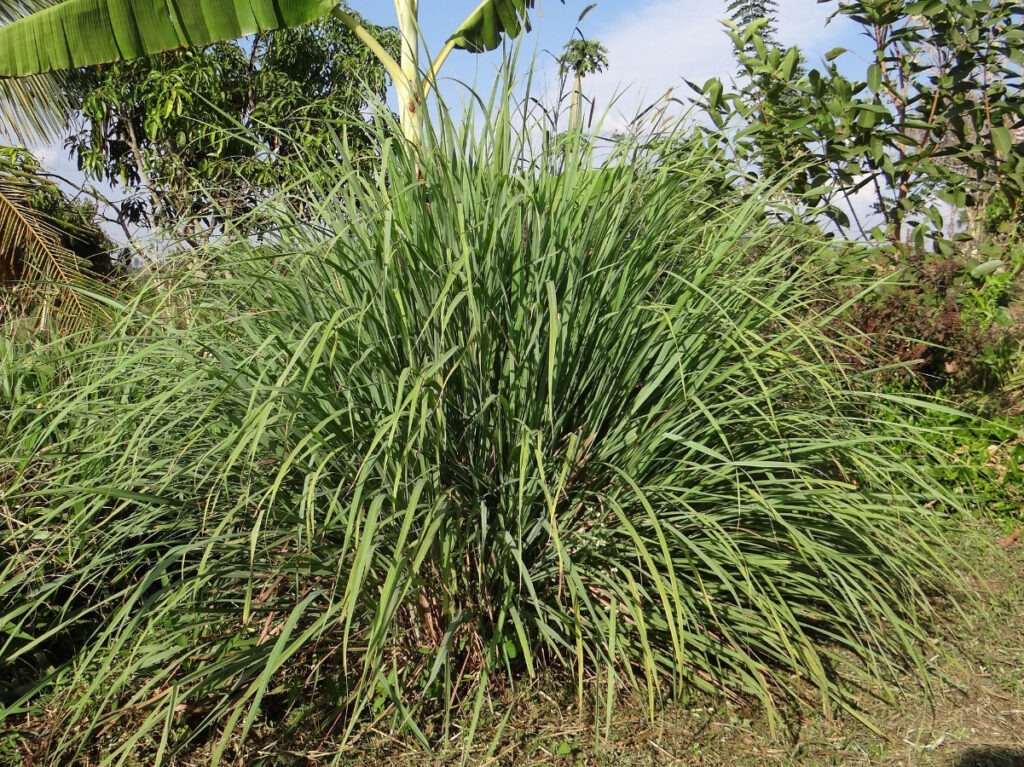 Lemongrass plants become huge if they are given suitable conditions. The plant can easily reach 6 feet tall and the same diameter.
Lemongrass is a clumping plant, so digging it up to harvest, and dividing the roots will give you multiple smaller plants. If you grow lemongrass in a pot it will stay smaller.
In the tropics lemongrass is a perennial, it grows year-round.
Think carefully about where to position your lemongrass, keeping in mind how huge it will get and the process of lifting and dividing the plant to harvest the lemongrass stalks.
Where To Grow Lemongrass?
Lemongrass plants enjoy full sun, this is one plant you don't need to shade. Lemongrass likes rich soil with plenty of nutrients. The soil should hold water and remain moist, not become waterlogged.
In the wet tropics, growing lemongrass in a raised mound or bed allows for better draining. We have grown lemongrass for years, with great success in the wet tropics of Australia.
Lemongrass really is one of the most hardy and easy to grow food plants of the tropics.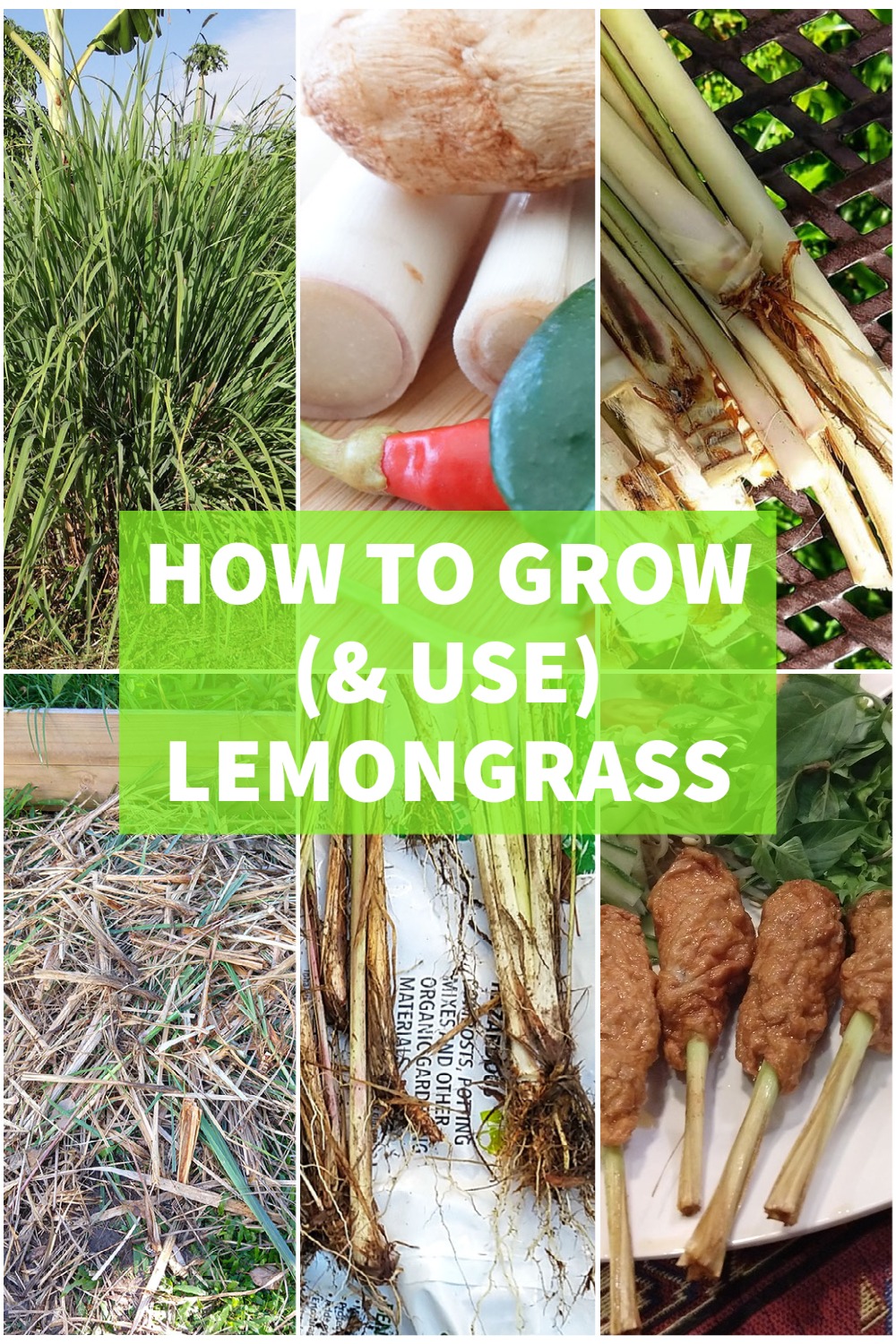 Propagating Lemongrass
If you have a good farmers' market or Asian grocery store nearby that stocks fresh lemongrass stalks, it's worth trying to root these in water. Look for the most intact stalks you can find, with some root left on the bottom.
This makes lemongrass yet another food plant you can grow from store-bought scraps.
If you have a gardener friend with a good clump of lemongrass, ask them if they will divide their clump for you and give you some rooted stalks.
Otherwise, it's best to buy a young lemongrass plant from your nursery or garden centre. Only buy one, this plant will keep you in lemongrass for years!
Lemongrass isn't very ornamental, it's a large clump of thick, tall grass with a light green/ bluish shade. We find it makes quite a good edging plant where the edge of a bed receives full sun.
It's a nice plant to brush against as you walk your garden paths, releasing its scent and deterring those mosquitoes. But beware, those tough fronds can cut and scratch
As lemongrass is a flavouring plant, you could call it a tropical herb, but be careful of growing lemongrass in your herb garden as it could easily overshadow low-growing herbs.
What Can You Do with Lemongrass?
Lemongrass is used as a flavouring ingredient in many Asian dishes, particularly in Thai and Vietnamese food. The Thai noodle soup, Khao Soi used a huge amount of lemongrass and is a good way to use it up.
In cooking, strip off the hard outer green leaves and use the softer core at the base of each stick. This can be pure white or sometimes a little purple. It's common to not eat the lemongrass itself, it is present in the soup or curry for flavouring, but stays in your bowl at the end of the meal.
Lemongrass strands are also used as a "stick" to mould meat mixtures around for the grill. You will see this in Vietnam.
Lemongrass tea is usually made with green leaves from the lemongrass plant. In a cool climate, you can dry these for winter use, in a tropical climate you should have leaves fresh in your garden year-round..
Lemongrass is also a popular fragrance used in soaps, deodorants, candles, and of course, citronella mosquito repellent.
Other Names For Lemongrass
Lemongrass is sometimes called lemon grass, or any of the following names.
It can be called citronella, British Indian lemongrass, Malabar, Kochi or Cochin lemongrass, Cymbopogon flexuosus, Indian lemongrass, fever grass, sereh, Guatemala lemongrass, Madagascar lemongrass, Melissa grass,, and West Indian lemongrass.
Sereh powder is dried, powdered lemongrass to be used as a flavouring in cooking. You could easily make this at home if you have a dehydrator.
Its Latin name for East Indian lemongrass is Cymbopogon flexuosus, the name for West Indian lemongrass is Cymbopogon citratus
Have Fun Growing Lemongrass!
This tough plant is fun to grow and rapidly fills a space. As a culinary ingredient, it is a superstar of Asian cuisine. If you love your Asian flavours, plant lemongrass in your garden along with gingers, chillies and citrus. Consider growing small round Thai aubergines (eggplants) that make your green curry so much more authentic. All of these plants grow great in a tropical climate.