There are many, many food plants that you can grow from supermarket scraps. Don't believe anyone who says you can't. There are way more than I can even mention in this post, but I'll do my best to tell you how. Once you know how, for different plant, herb, and fruit types, you can try to grow just about anything, from seeds in store-bought fruit and vegetables, from peelings, from stumps or roots. Plants want to grow, they don't want to die. It is worth trying to grow just about anything from supermarket bought fruits and vegetables.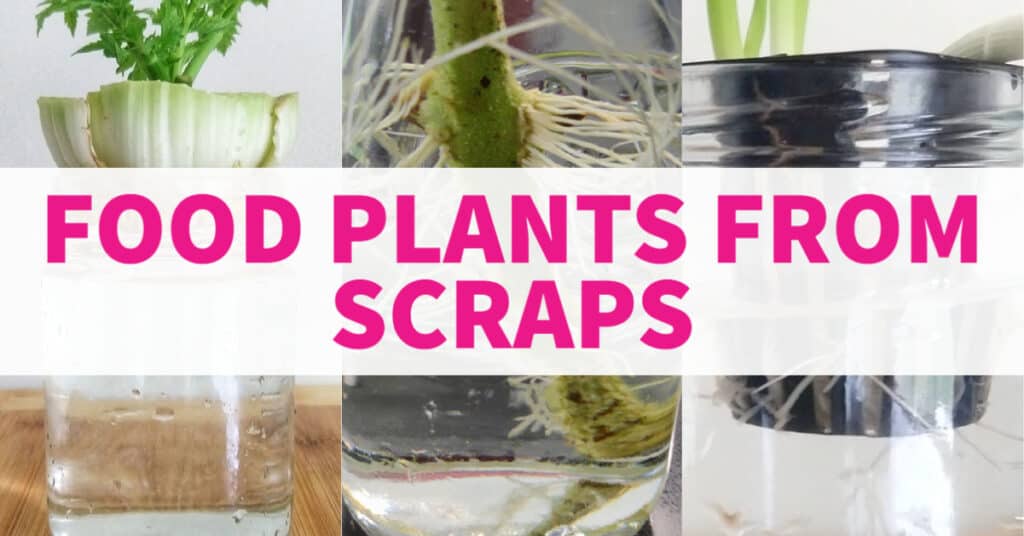 Plants We Have Grown From Scraps Successfully
We have grown the following food plants from supermarket or store-bought scraps and seeds, so far. One of the great benefits of growing your own food is that you can grow food for free, or on a low budget.
Most of these smaller food and edible plants can be grown indoors or outdoors in the correct climate.
Tomatoes from store-bought seeds.
Spring onions or scallions from stumps of store-bought onions.
Citrus trees from pips or seeds, but this takes years.
Sweet potatoes from tiny off-cuts of store bought. You can eat the leaves too.
Pineapples from pineapple tops.
Jackfruit from jackfruit seeds
Passion fruit plants from passion fruit pips
Mongosteen trees from mangosteen seeds
Cashew trees from cashew seeds (fresh, not cooked!)
Lettuce from lettuce stumps.
Avocado trees from avocado pips, just plant them, shooting them in water with cocktail sticks is pointless.
Ginger and other members of the ginger family like turmeric and galangal.
All types of chillies and sweet peppers or capsicum from store-bought seeds.
Pumpkin plants from seeds are easy.
Papayas from seeds. Incorrectly called paw paw in some countries.
Water spinach and similar Asian greens from cuttings of store bought greens.
Celery
Lemongrass
The major drawback of growing food plants from seeds is that the variety may not grow true. There can be genetic variation in the seeds. But we think it's worth trying anyway!
Growing tomatoes this way can be a lottery! We have a detailed post on growing chillies from supermarket chillies.
We've read elsewhere that supermarket food plants such as ginger root, is coated with a growth inhibitor to stop people growing their own free food. In our experience this isn't true.
Everything we've tried to grow, has grown. Sometimes not well, but it grew.
If you grow from stumps or cutting of store-bought vegetables, your plant will be a clone and will be genetically identical to the original parent plant.
Growing trees from seeds takes years. You're better off buying a young plant, that will most likely be grafted, from a nursery. But if you can't afford it and have time and space to spare, yes you can grow fruit trees from pips.
Some fruit plants that you can grow from seed quickly exist, for instance, papaya. I've had fruit from a papaya within 1-2 years of starting a plant from papaya fruit seeds.
We live in the tropics, so we can start most plants this way year-round, outside or indoors. In cooler climates, you'll need to start in spring or summer, or provide heat and light indoors in winter.
Most of the plants we mention in this post will not survive a cold winter, but growing here in the tropics, they grow as perennials, year-round, for years.
We bought a farm, we're now homesteaders, but you can grow food from scraps in a small back yard, garden, patio, terrace, or in pots, even indoors on a windowsill!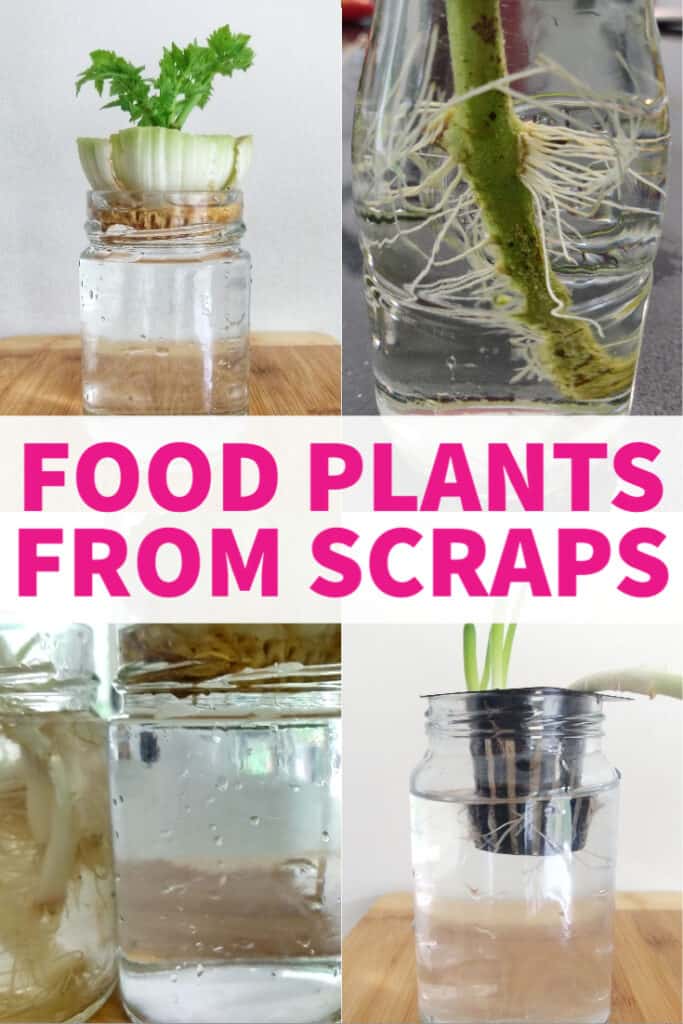 Soil For Growing Your Food Plants For Free
If you have access to an outdoor space, there's no reason not to dig up some soil, put it in a pot and start growing.
Be mindful of soil contamination when growing plants for food. Some soils can be contaminated with lead, arsenic, herbicides, and so on.
If you have to buy bagged soil or compost, get a good one. A lot of bagged potting mixes can be really poor quality and your plants and seedlings may be nutrient deprived, and struggle.
We like to amend our soil or potting mix with homemade fertilisers such as worm castings, well-rotted compost, and suitable animal manure, treated appropriately.
Starting Plants in Water
As you can see from the photos on this page, any cuttings or stumps, we usually start in water.
It's just an easy, clean, way to get roots and plants started in the kitchen, without soil. You can pot them up into soil when the plants are established.
Some, such as pineapple tops, can last weeks in water before you need to put them in soil. Others will need the nutrients that soil provides faster. If your young plants and roots still look healthy, they're OK in water for a few days more. If they start to wilt or change colour, get them into soil.
Most of these plants will start in moist soil too. To encourage rooting and growth, place a plastic bag over the pot and plant, like a tent. This reduces evaporation.
Do not place new cuttings or plants you're trying to root in direct sun. Their new, or non-existent roots won't be able to keep up with demand.