Yes, Mulberries do grow in the tropics. We are picking or harvesting ripe purple mulberries from our tropical garden right now, in early October, our spring. Which came as a surprise to me as I first encountered mulberries back in my home country, Wales UK, and later in the mountains of Romania, where winter temperatures dipped to minus 25 c (so let's assume mulberries are frost-hardy). It seems mulberries will grow anywhere, from Florida to Queensland Australia (where we live now). This is a post about growing mulberries in hot climates, caring for, pruning, propagating and eating, mulberries, possibly the finest food plants you can grow in the tropics.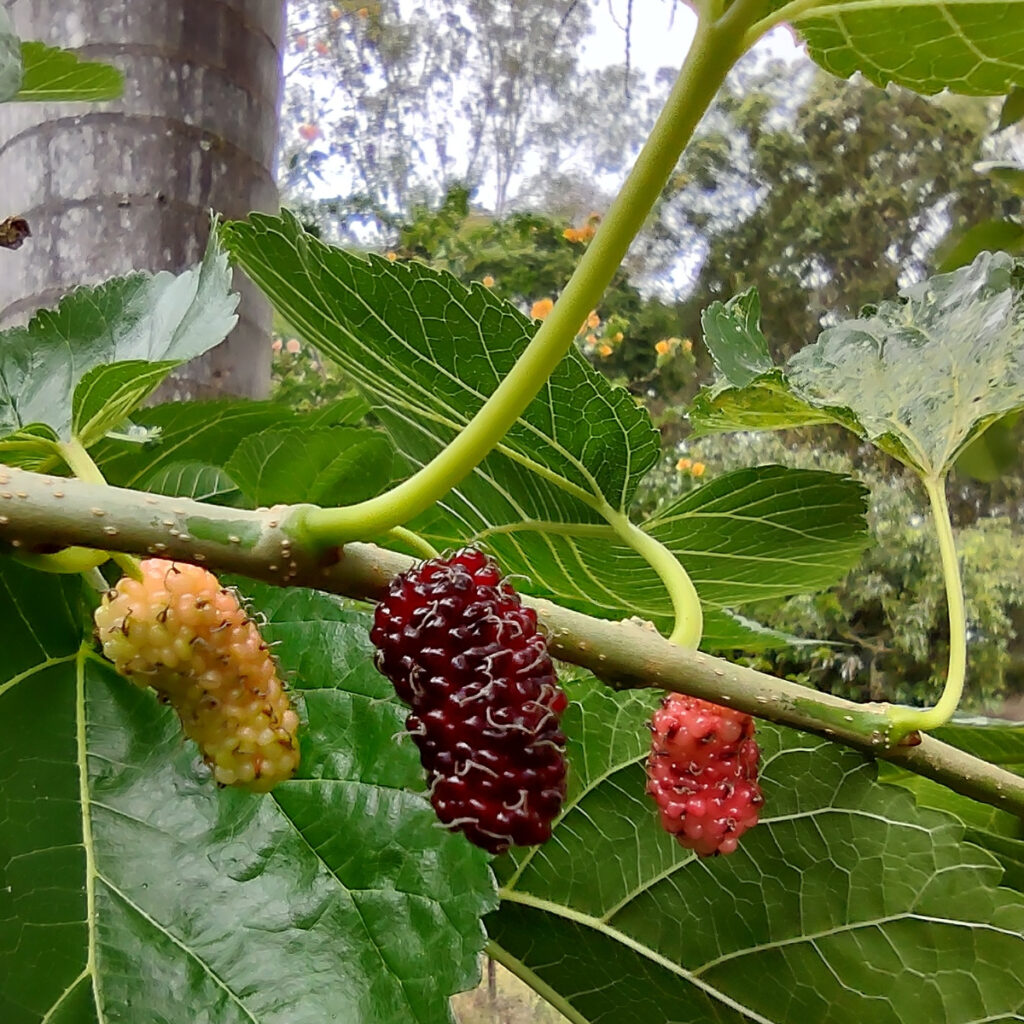 Mulberries.
Mulberries are delicious! And as a bonus, they're super-easy to grow, you can pretty much leave them to grow themselves so long as they get sufficient water and are in good, free-draining, nutrient-rich soil. Mulberries prefer a slightly acidic soil (Ph 5.5 to 6.5) (not as acidic as blueberries!), so if you're on chalky soil, you may need to add sulphur. Tropical soils are often acidic because of heavy rains, but get yourself a simple (cheap) ph meter to check. We use one like this.
The root systems of mulberries can be invasive, so think about that when you're choosing a spot to plant, keep them away from pipes, foundations, fences, other vegetables etc. But other than that they're very attractive trees or bushes, with large green leaves much loved by silk worms. But did you know mulberry leaves are also edible for humans? They have strong health benefits too. The flowers aren't really noticeable, but you'll soon spot the berries in spring or summer, even early fall, depending on your local climate.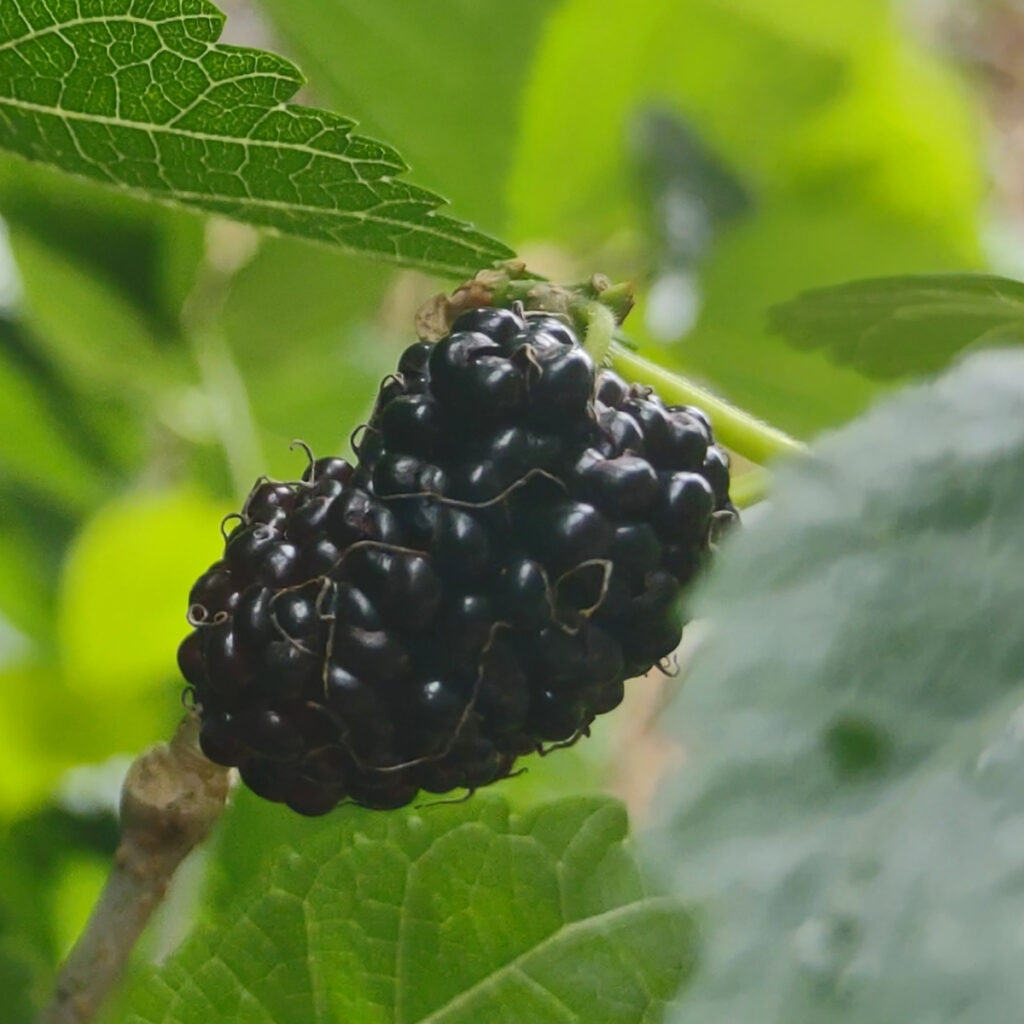 Are Mulberries Messy?
Yes, mulberries can be very messy if the ripe purple fruits are allowed to fall onto anything that shouldn't be stained purple. do not plant mulberries next to a driveway, where you park your car, a patio, or pavement. When mulberries are perfectly ripe, they fall, or, they are eaten by birds, who can spread the purple over an even wider area. As we live on a farm or homestead property, we have no problems with mulberries being messy. The best way to stop the mess is to prune your mulberry so that all branches are low enough to reach, and to pick the ripe fruit daily in season, before the fruit can fall. Mulberries will also stain clothes and fingers purple, but it should wash out.
When to harvest mulberries?
Mulberries change colour from red to black when they are perfectly ripe. Once ripe they will fall to the ground, it's best to check your mulberry tree every day and hand-pick any ripe berries. If you have a very large mulberry tree, the easy way to harvest ripe mulberries in bulk is to place a large tarp or sheet under the branch and shake the branch. The mulberries that are ripe will fall. However, ripe mulberries will squash easily, so be as gentle as you can and don't allow large piles to form, the berries at the bottom will be crushed.
Is it a mulberry tree or bush?
A mulberry is a tree. It is self-fertile, meaning you only need one tree to get fruit. Pruning your mulberry tree can make it have a bush-like shape, otherwise, it can grow up to 5-20m tall depending on variety. The mulberry tree is deciduous, although in our tropical climate it does not fully lose its leaves. Spring does, however, bring on rapid and abundant new leaves and growth.
What To Do With Mulberries Once Harvested?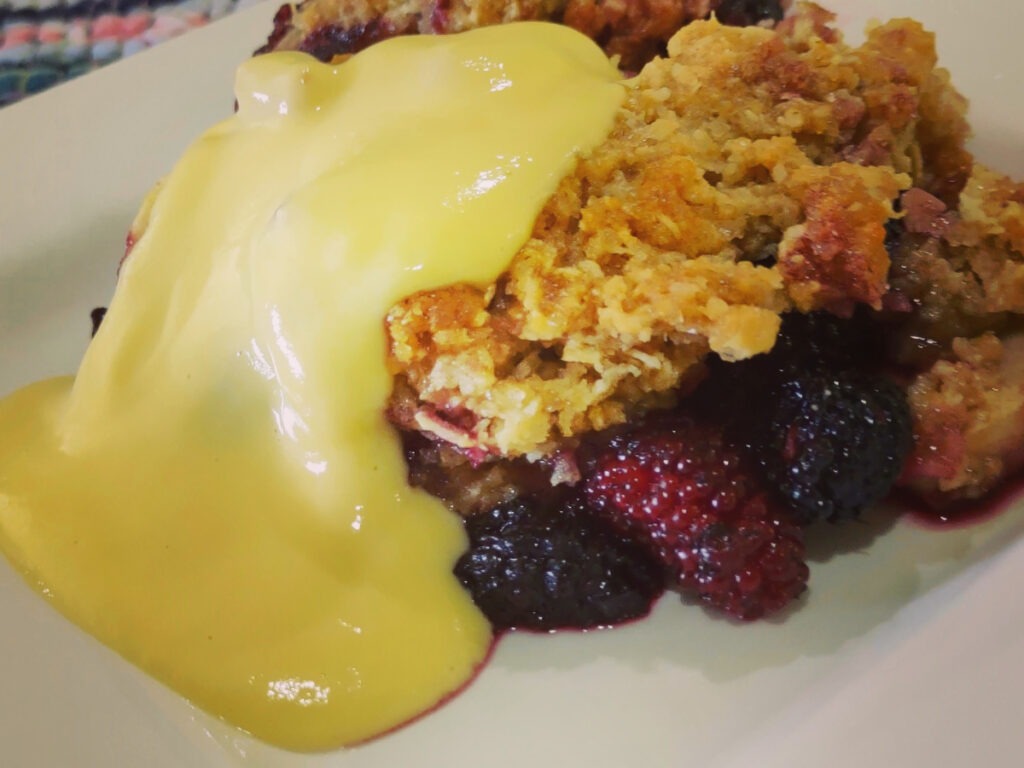 You can eat mulberries fresh, of course, or you can freeze them to use later. Some uses of mulberries include those in the list below. Of course you can mix mulberries with other fruit. Mulberry and apple crumble is a favourite at our homestead.
Mulberry jam
Mulberry pie
Mulberry crumble
Mulberry vodka
Feed them to your chickens for a treat
Mulberry Mess (Like Eton Mess)
Mulberry Clafoutis
Mulberry Syrup
Mulberry kombucha
Find more mulberry recipes here!
---
---